Welcome to our showroom where you can view our wide range of mobility equipment, living aids and items to make your life easier.
Do you know we now do video calls via WhatsApp? Have a live, virtual tour (by appointment)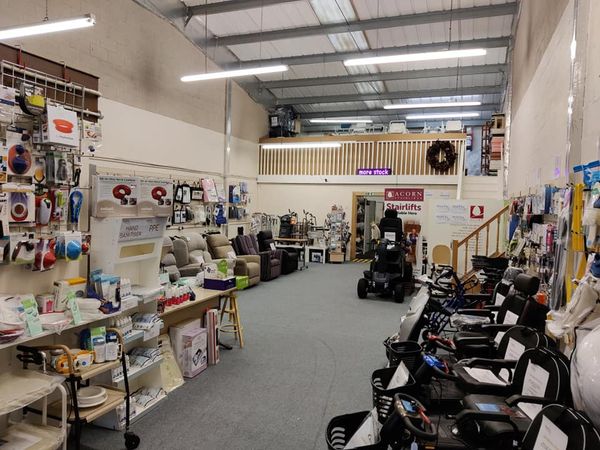 Finally have our Trolleys with Brakes back in stock! Between COVID, Brexit and the poor sod that got his ship stuck in the Suez Canal, they were a bit delayed getting here. Choose a trolley with brakes, without brakes or with trough arms for extra support. We also have a range of other walking aids so we can find what suits you and your needs.
Do you need a Mobility Scooter? Or maybe a ferrule for your walking stick? With our large stock pop in and let our experienced and helpful staff assist you.
Our showroom holds a variety of Mobility Scooters, click here to see more details about scooters
Are you struggling to get out of your chair? Then a Riser recliner chair might be of help to you.
There is a large stock of Daily living aids within the showroom, call in to showroom to see what we can do to help make your life easier.
Struggling with those stairs? then consider getting a Stairlift
Feel free to contact the showroom if you require some help, or want more details of what we currently hold in stock. We also have an online shop, Ability Goods.