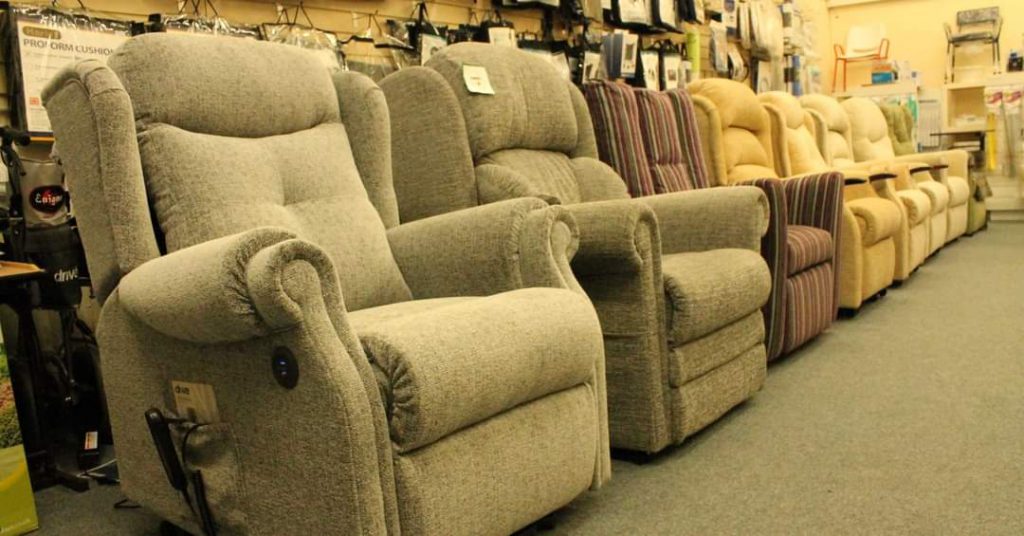 N.B. This article is written for general guidance and should not replace medical advice.
What is a riser recliner or lift chair and how do I know how to choose the one that is right for me?
When getting in and out the chair becomes a chore in itself, it is time to consider a bit of help. A riser/recliner helps you stand up more easily and also allows you to find a sitting or reclining position that is more comfortable. At the touch of a button a motorised armchair can recline you or lift you up out the chair. When getting in and out is easier, it lets you stay more active and raising your legs up can help with circulation and reduce swelling.
A lift chair or riser-recliner has to be comfortable, fit well and have a mechanism that suits your needs. Once that is sorted, then it is a case of finding the fabric, style and colour to suit your taste.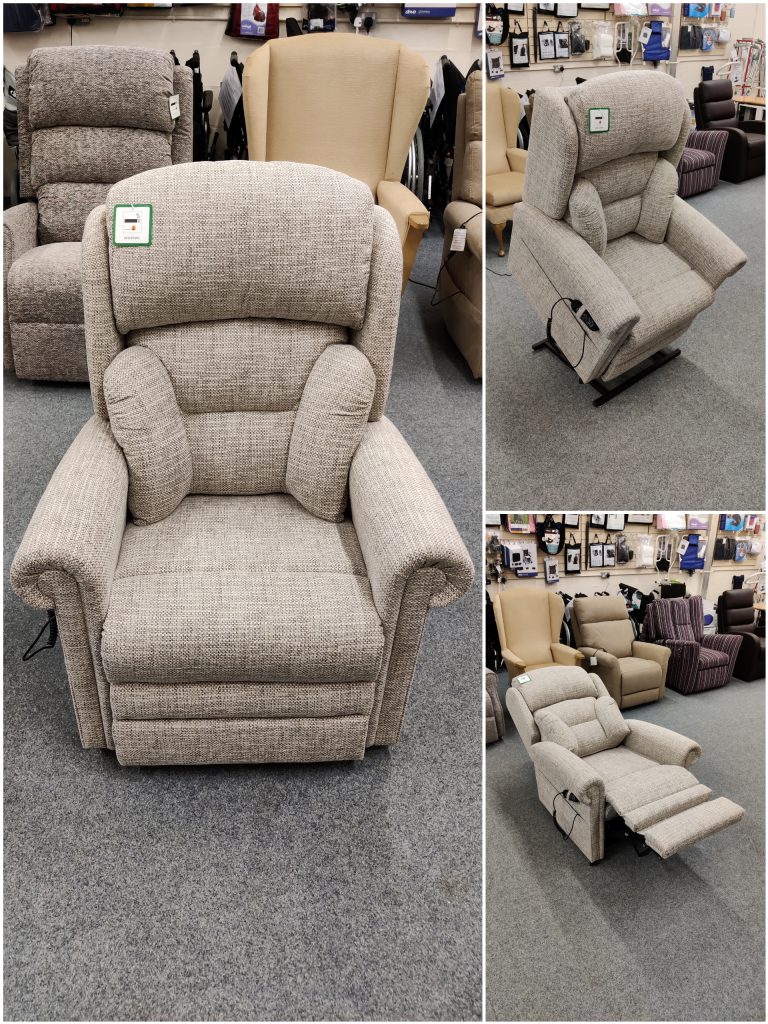 A riser recliner chair, sometimes known as a lift chair, is designed to make it easier to get in and out of your chair. They can also help with circulation and swelling issues by raising legs comfortably and easily. These motorised armchairs let you get in and out of your chair easily and get to the position that suits you best at the touch of a button.
Before choosing a riser recliner, there are a few things you need to know to make the right choice for you – this article briefly goes over some of the main things to think about but to ensure you find the right product for you, it is recommended that you visit a specialist mobility shop or speak to your occupational therapist for further advice. A reputable retailer such as Mobility Stirling will hold a range of stock for you to try out and advice you on any features that are particularly suited to you.
The jargon describing riser recliner chairs can be a bit confusing. Sometimes they are just a different name for the same thing for example, motorised chairs but others describe particular actions or styles of chair such as 'tilt in space' chairs, lift chairs, wall-huggers, single motor or dual motor chairs. Before we look at these, lets start with an overview.
A riser recliner chair is a chair that uses at least one electric motor to change to a variety of positions. The motor or motors push or pull a metal scissor type mechanism (usually) to achieve the desired position. Riser recliner chairs are run off mains power through a transformer to protect against electric shocks. Although it does have a battery, this is for emergency use only (e.g. a power cut) to ensure you are not stuck in your chair. This should be replaced every six months or immediately after use in the unlikely event of having to use this emergency back up (P9 – the square smoke alarm batteries).
A remote control is attached by a cable to the chair and has at least two buttons allowing you to easily go from rise position to recline and back again very easily. You are in control of the chair and releasing the button will stop the chair from moving.
Single motor/standard recliners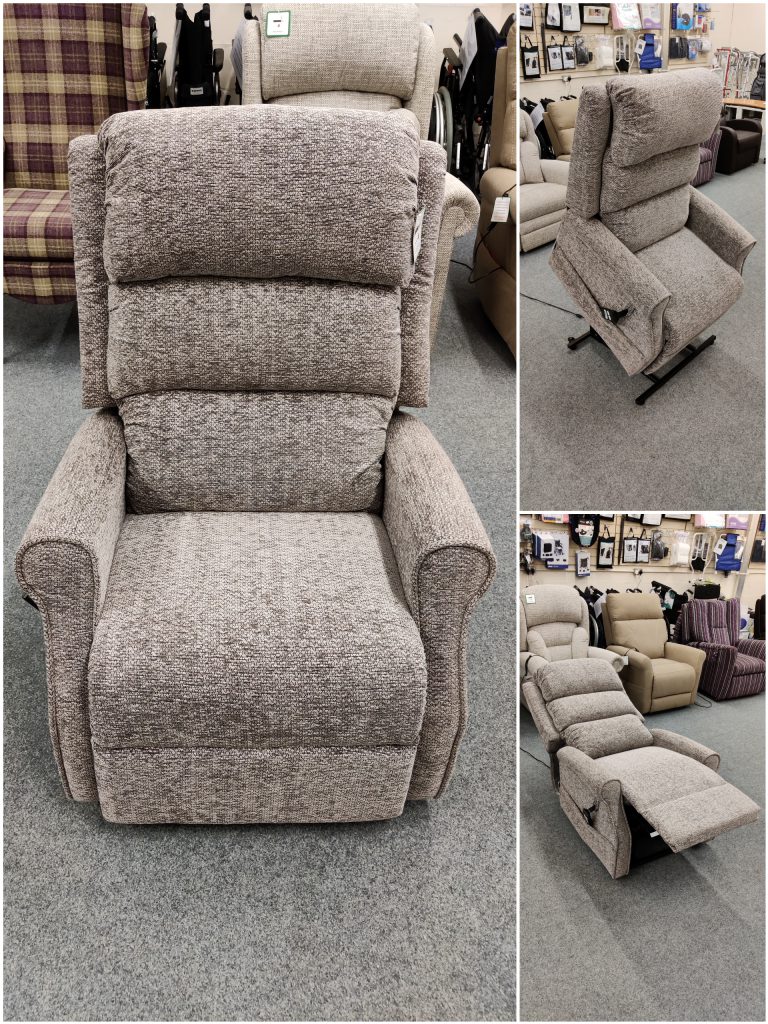 The single motor riser recliner, as the name suggests, has one motor. As one motor controls the chair movement, the backrest and footplate move together. A single motor chair will recline to about 45º which is great for relaxing, chatting to friends and watching telly with your feet up. Some manufacturers offer a heavy duty single motor chair for bariatric use. Something you need to give consideration to when buying a chair is that the standard chair has to be at least 2 foot away from the wall when it is upright to make sure it doesn't hit the wall when reclined – it is a very expensive repair if the frame gets bent and may also damage your wall. Where space is at a premium, then the option of a wall hugger might be better for you.
The advantage of a single motor is its simplicity – one button gets you up and another button takes you down, puts your legs up and tilts the back down.
Dual Motor Chairs
If you need more flexibility in your chair positions or you want to fully recline, then a dual motor chair may be a better option for you. With one motor controlling the footrest and one controlling the back rest, you have full control of exactly how you position yourself and unlike the single motor chairs, you can recline it fully flat to a sleeping position if that is required on occasion.
It should be noted that, as you are controlling two separate motors, there will be four separate buttons. Most people become used to this very quickly but can be confusing for those suffering from dementia. Many handsets have an additional button which takes you back to sitting position in one motion, this is really good if you need to get up in a hurry!
Like the standard single motor chairs, dual motor chairs require a space of at least 2 feet behind them to allow them to recline safely. Heavy duty motors are also available for larger user.
Wall Huggers
Where space is in short supply, a wall hugger may be the answer. A wall hugger movement in a chair means that the seat base moves forward as the chair reclines. This type of movement means that the chair only needs to sit a few inches away from the wall. Good if you have a small room or just prefer a less obtrusive piece of furniture.
Tilt in Space
For those who have problems with their back, a standard riser recliner chair can strain the lower back. A 'tilt in space' chair is a single motor chair that reduces the amount of strain on the lower back – it keeps an L shape as it reclines so keeps supporting as it moves and you don't have move back in the chair as it reclines. Due to its nature a 'tilt in space' cannot recline very far. Tilt in Space are also available as a dual motor.
Once you have decided which type of chair suits you best, it is important to make sure that it fits you.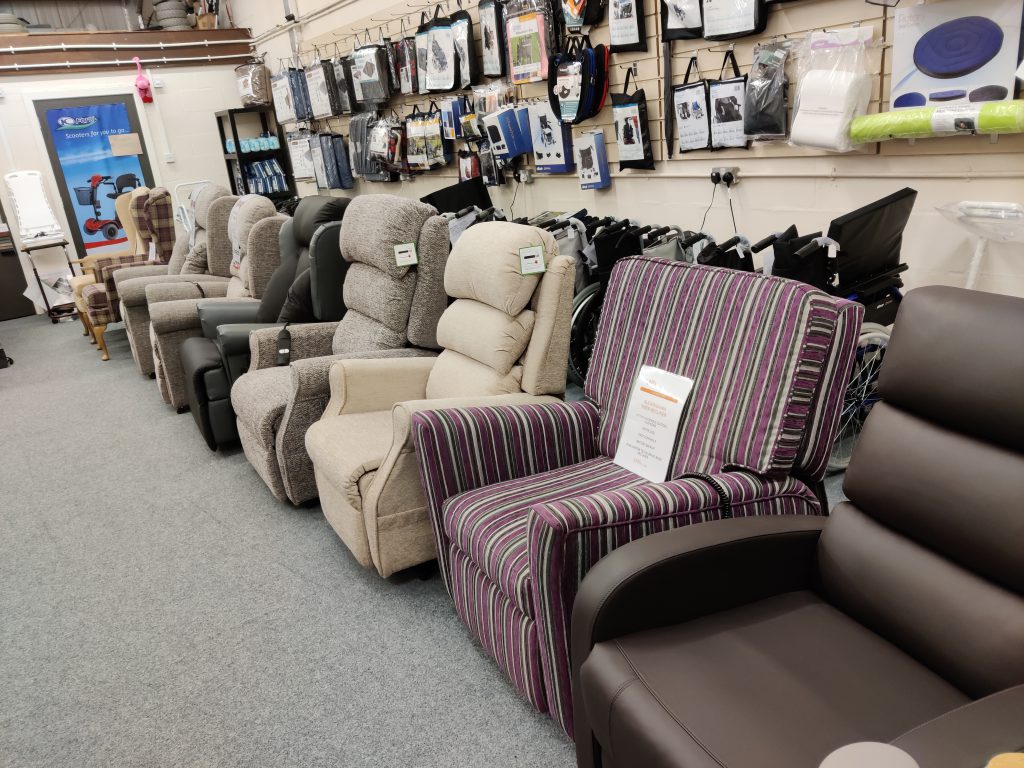 Getting the fit right
Correct fitting of the riser recliner is vital if it is to give the comfort and support needed. Good fitting is necessary for everyone but particularly for those at risk from pressure sores. It is best to get someone else to measure you while you are seated. A reputable dealer such as Mobility Stirling can do this for you either in the showroom to allow you to sit in a variety of chairs or they will come out to your home to assess you if this is easier. The three measurements that should checked are seat height, width and depth. The best way to measure is to sit on a chair and allow someone else to measure. You should sit upright with your feet flat on the floor wearing your usual indoor shoes/slippers. Your hips and knees should be at right angles.
Seat Height
The seat height is measured as the height from the floor to the crease at the back of the knees. A higher seat can make it easier to stand or sit down which is particularly important if you have leg pain or weakness. The action of a riser/recliner means that this is not such a concern as it rises to help you stand and can recline from this higher position too. This allows for a more correct fitting of the chair to avoid pressure in the wrong places.
Seat Depth
The depth of the chair is very important as it needs to be sufficiently deep to offer support for the full length of the thigh but give sufficient space to place two fingers between the back of the knees and the seat. If it is too deep it will not support the lower back. Measurement should be taken from the back of the hips, along the length of the thigh to about 1.5" (3cm) before the back of the knee.
Seat Width
The space between hips and the side of the chair should be about the width of a clenched fist on both sides. This should allow you to sit comfortably whether you are reading, knitting or similar activities but still allows you to easily use the armrests.
Styles and Fabrics
Although much of this is personal taste, there are a few things you should consider too.
Fabric or Leather?
Leather is nice but can be cold to the touch but also tends to be harder to grip so may not be the best choice when you need a little help to get up. Other things you might want to consider is how likely it is that incontinence may be an issue or if spillage is likely – perhaps due shaking. You may wish to consider a waterproof material. Fabric technology has come a long way so waterproof doesn't have to be cold, plasticky vinyl, there are more tactile alternatives that give additional protection against bacteria and viruses. Come into Mobility Stirling and our experienced staff can help you find the perfect chair for you.
N.B. This article is written for general guidance and should not replace medical advice.