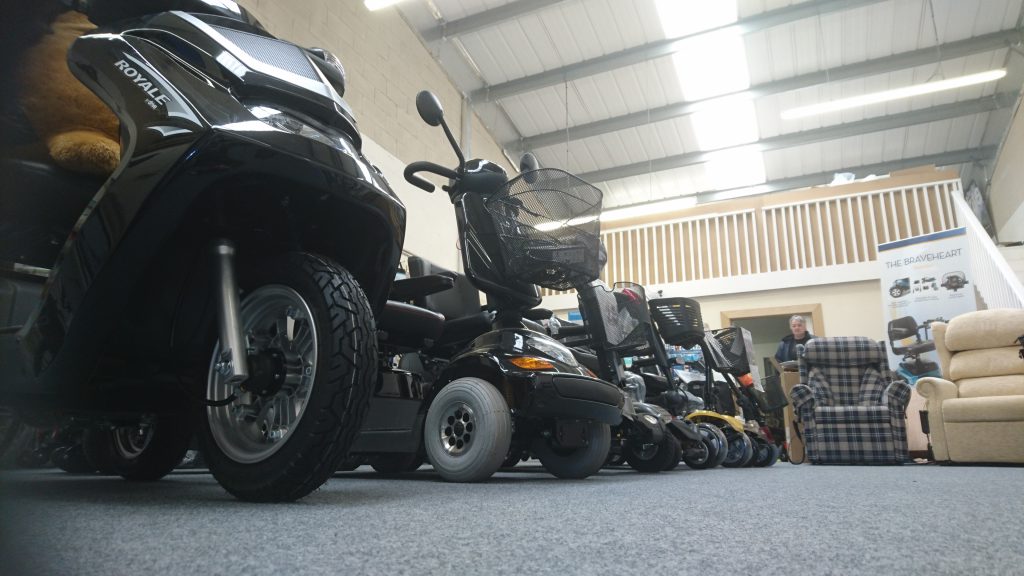 N.B. This article is written for general guidance and should not replace medical advice.
Want to get out and about more? A scooter can be life changing. But getting the right one is so important. If you are not sure if it is a boot scooter you need, have a quick read of our guide on scooters.
Boot scooters and Travel Scooters are great if you want to take your scooter with you in the car. Ideal for shopping, days out and appointments.
Boot scooters come in so many styles, colours and types – so what are the key things you need to think about? Well, there is weight. Your weight is a factor. And the weight of the scooter is a factor too. Size, well what can I say, size does matter. Power and range. Comfort and aesthetics.
Weight Capacity
Many people believe that if they are a bit on the large side but there are boot scooters to suit most people. Most scooters take at least 18 stone, but we stock a range that take up to 26 stone (One Rehab Cruise and Vantage Boot Scooters)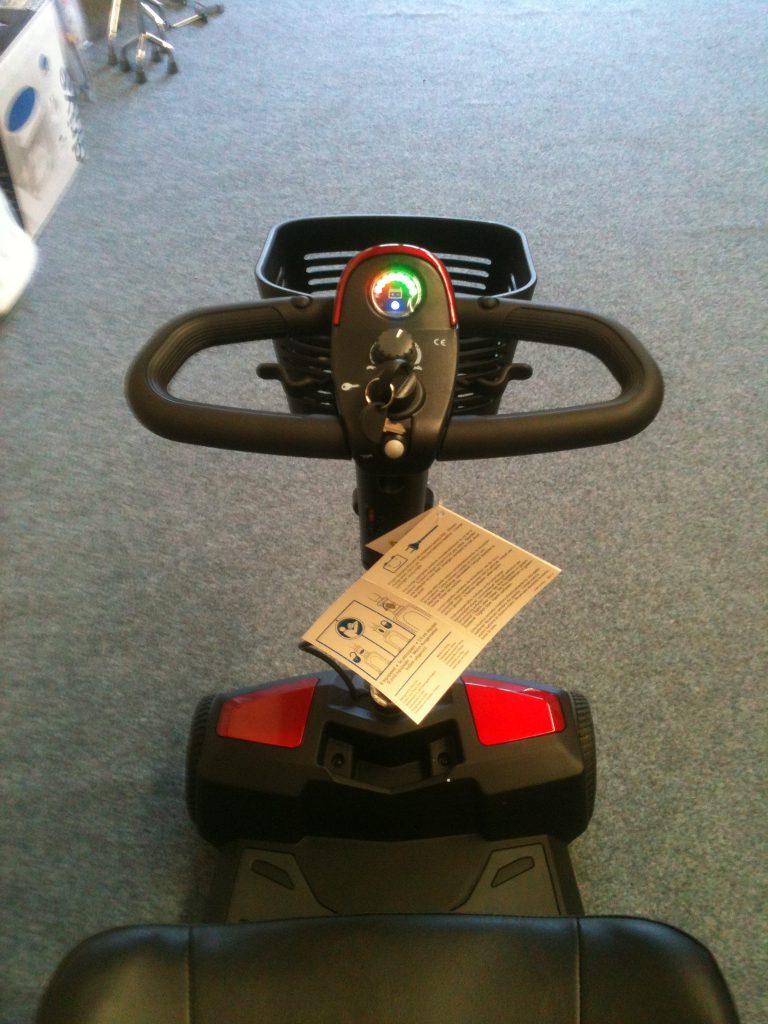 Weight of the Scooter
For many people the key thing a boot scooter gives them is freedom to get around. Having the ability to take the scooter wherever you wish is the great advantage of a boot scooter. As boot scooters come apart easily (see the video below), the weight is split between the different parts of the scooter making them more manageable. Weight varies a lot between different makes and models so it is best to be sure you can manage the model you have your eye on. There are options of extremely lightweight scooters – the One Rehab Illusion has extremely lightweight lithium battery and the chassis is made from airplane grade aluminium making it manageable for almost anyone. As with anything though, it is really important to try it out to make sure you can manage it in and out of the boot – getting something that works for you.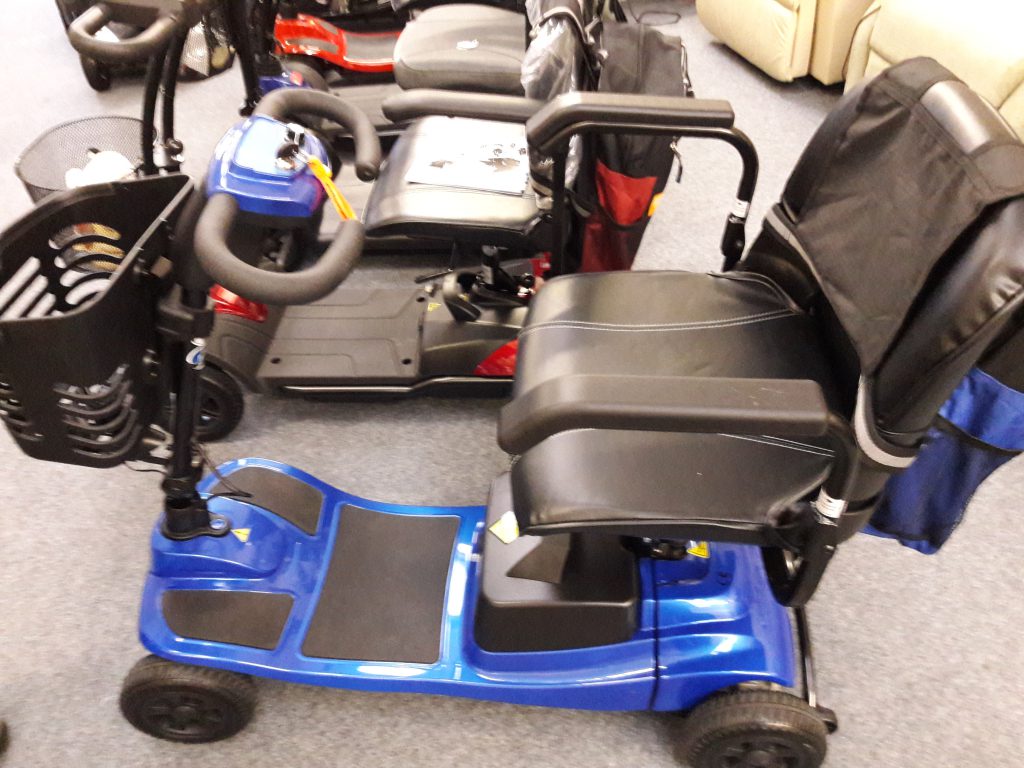 Scooter Size
Once split up, a boot scooter will fit into to most cars but it is best to check by trying it in the car that you use most frequently. Come in store to see our selection, test drive and try it out in your car.
Power and Range
Before you go ahead with a scooter purchase, it is important that you consider where you are likely to want to use it and the distance you wish to travel on one charge. Although there are a few exceptions, the smaller scooters tend to have a range of between 8 and 10 miles on a charge. This will vary depending on a number of factors such as weight of the user, whether it is being used on hills, age of batteries, etc. Some scooters such as the Go Go by Pride Mobility can come with standard battery boxes that hold 12ah batteries or can come with larger battery boxes that can take between 17ah and 22ah batteries. The larger the amp hour (ah), the further it can take you. The Vogue by One Rehab has a clever battery box design that can allow you to upgrade the battery size with the existing battery box. The advantage of this is that you can upgrade or downgrade your batteries at any time just for the price of the batteries. While it may seem like a no-brainer to upgrade to larger batteries to increase range but with larger batteries comes additional weight. Again, this balance can be more easily assessed when you can try different models and feel the difference.
In terms of power, there is definitely as trade-off between power and the weight of the scooter. The larger boot scooters have more powerful motors and larger wheels, allowing the scooter to cope with steeper hills and heavier users more easily. The price to be paid for this extra power is the heavier weight.
Comfort and Aesthetics
Scooters vary very much in style which not only impacts on appearance but can also make a huge difference in comfort. There is some adjustment in most boot scooters – you can usually adjust the tiller position forward or back and the seat usually has some height adjustment. There are though differences between scooters in terms of legroom, width, where you can place your feet and comfort of the seat and tiller controls. These can make a real difference to how comfortable it will be when you are sitting on it for half an hour or more. Trying different scooters will help decide which suits you best. Mobility Stirling has assistants who can help adjust each scooter to find a suitable position for you, making it easier to compare.
Balancing your needs
If you are lucky, these considerations will come together and it will be easy to choose. Sometimes you will have to compromise and find the best possible choice for you. Our experienced staff can guide you, making it easier to get the best option.
Dismantling and rebuilding a boot scooter
If you are wondering how to take a boot scooter apart, this video lets you see just how easy it is.https://www.youtube.com/watch?v=7f7-yRqx3CA&t=38s