N.B. This article is written for general guidance and should not replace medical advice.
Incontinence: Break the taboo
Many people find incontinence a difficult subject to talk about. The language can be a bit difficult too but we all pee and we all poo so let's end the embarrassment and make sure we are getting the help we need.
There can be many causes of incontinence and lots of different types. Whether it is bladder incontinence, making it difficult or impossible not to wee at the wrong time, or faecal incontinence, making it difficult to regulate bowel movement, it can cause inconvenience and embarrassment, it is important to talk about it and seek help. After all you may be suffering needlessly.
Your first port of call, so to speak, is to chat it through with your GP or check if your surgery has an incontinence clinic. They deal with issues such as yours every day and can often give practical help and advice but also refer you on if they feel you need specialist care. For example, Forth Valley Health Trust have a specialist continence care team that can offer advice, reassurance and help both to suffers of bladder or bowel incontinence and their carers (https://nhsforthvalley.com/health-services/az-of-services/continence-advisory-services/)
In the meantime, or while you are waiting for help, there is a wide range of equipment and products that can help make life easier.
How can Mobility Stirling help?
At Mobility Stirling, we keep a wide range of items that can help you. Not only do we stock a wide range of incontinence products, we also stock equipment to help too. Not exhaustive but some ideas that could help.
RADAR keys: The National Key Scheme (NKS) was set up to allow access to disability enabled toilets without having the embarrassment (or a less than comfortable wait!) to ask for a key at often busy customer service desks, receptions or bars. The keys fit most disabled toilets in shopping centres, cafes, bars, train stations, bus stances and visitor attractions. Reducing the fear of being caught-short can make it easier to enjoy day trips and outings. Mobility Stirling stock genuine RADAR keys.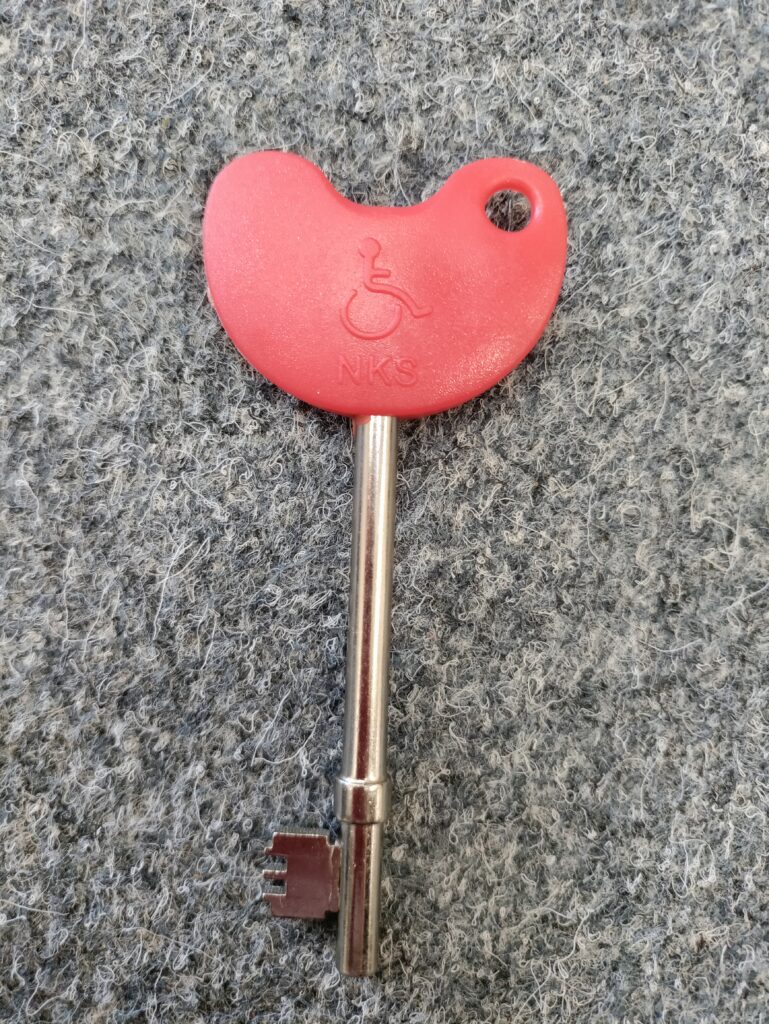 Portable urinals and 'Lady-wees': These come in a variety of different styles. Disposable ones, ideal for the car, as well as re-usables. Disposables typically come in a pack of three, easy to keep discretely in your bag or the glove box for occassional worries. The reusable ones come in a range of shapes, sizes and designs. The standard bottle style with a flat side are great for the side of the bed, many are calibrated to let you keep track of 'output' too.
The standard bottle style urinals are available for male use or female use, and again there are various shapes and sizes to suit different people and needs, There are also unisex ones with an extra appeture for the ladies! The newer styles can be more discrete – for example the uriwell has a concertina design that allows it to fold down when not in use. Mobility Stirling always have a range in stock and expert advice to help you choose the right one for you.
Commodes: If you are worried you can't quite make it to the toilet in time, a commode may be helpful, whether it is because the loo is upstairs and you can't get there quickly or to reduce the risk off falling particularly at night when we are not quite fully awake. Sometimes it is just too far to make it to the loo in time. If rushing to the toilet means you sometimes don't make it, then a commode may help.
Again, there are a variety of shapes, sizes and styles. From folding ones if it is just occassional use; commode chairs in a range of sizes, colours and styles; wheeled commodes which are ideal for moving from room to room; as well as shower/commode combos. At Mobility Stirling we keep a range in stock to suit your needs and lifestyle. Our friendly staff are on hand to give advice if you need it.
Wearable incontinence products
Here at Mobility Stirling we know that one size does not fit all. We stock a wide range of disposable and washable products to suit every need from little accidents to full double incontinence and everything in-between. Our staff are here to help with your decision on choosing the right thing for you.
Male incontinence products: With our anatomical differences, when it comes to bladder weakness, shield style products work well for men with light bladder incontinence. The comfortable cup shaped pads are available in a variety of sizes and absorbencies to suit. A perfect way to avoid those embarrassing leaks and the ensuing smell. If your issues are more than just little slips, then we have a wide range of slips and pull-ons in different styles to deal with anything from mild to heavy urinal incontinence and/or faecal incontinence. Not only do Mobility Stirling stock a variety of sizes, we also have a range of different shapes, absorbency levels and fastening types to ensure you feel secure and comfortable. In addition to our disposable range, we also stock a range of re-usable underwear that absorbs too.
Women's incontinence products: Between babies and gravity, we ladies are likely to leak at some point, whether it is when we cough and sneeze or when we join the kids on the trampoline! Don't rely on sanitary products, get a pad designed for the job, afterall blood is thicker than water. From small to large pads in a variety of shapes, we can make sure it fits well and is up to the job. If it is a bit more than the occassional squoosh, why not look at our range of slips and pull-ons? Mobility Stirling keep a wide range of disposable products but we also stock reuseable pants that are designed to absorb urine and then simply be popped in the wash. With the look and feel of normal pants, they can bring security in a more cost-effective and environmentally friendly way.
Skin care: Wetness left on the skin can cause irritation as can using sponges and flannels, Always use a soft cotton cloth or disposable wipes, Avoid soap and ensure that the products that you use are not drying to the skin. Follow up with regular mosturiser with a non-greasy barrier cream. Mobility Stirling stock a variety of products to ensure skin is kept in good condition.
Incontinence can cause anxiety and depression, using the right products can help but seek medical attention if it is causing undue stress. There are a variety of organisations available to talk through issues for example if you are concerned about work or if you are finding it difficult to talk to friends and relatives. The more we can talk openly, the easier it is to deal with and get the help and support we need. Always a friendly ear at Mobility Stirling.
N.B. This article is written for general guidance and should not replace medical advice.